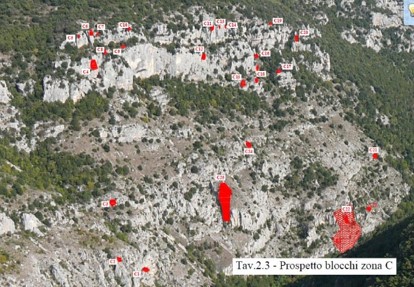 Tiburtina Rockfall
Advisor: Mr. Nicolò Doglioni, Geologist Project Description:
The client required a check of the existing protection systems in order to verify their efficiency and the risk assessment of the whole area of 10 Km2. To accomplish the task, during the first phase, it has been developed a new cataloguing method allowing to resume each punctual situation of rock falling risk on user-friendly sheet, provided with photographs and technical information. In a further phase, the analysis of the results obtained by numerical rockfall simulation (RocFall inc.), has allowed to create the hazard map of the area.
Activities Performed:
Geo mechanical survey and stability analysis (limit equilibrium, finite and distinct method)
Planning of proper interventions.