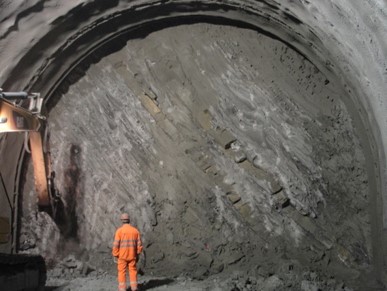 Col Cavalier Tunnel
Advisor: Mr. Nicolò Doglioni, Geologist Project Description:
Col Cavalier Tunnel, on the Provincial road No. 2 (Belluno – Italy) The tunnel is 1800 m long. It passes below urbanized area, at depth of 5-34 m, throughout the Belluno Flysch formation. Such rock mass is characterized by a succession of hard sandstone (0.5-1-0 m thick layers) and weak claystone – limestone (1.0 – 3.0 m thick layers); both the investigation and the geomechanical modelling were extremely difficult because of uncertainties about the resistance properties of the rock mass. The modelling has been carried out with the distinct element method in order to foresee the internal stability and surficial settlements. The excavation was carried on with a jackhammer and punctual milling. The slopes at the portals have been consolidated consolidated with soil nailing.
Activities Performed:
Geological and geomechanical survey and geological supervisor office
Design of mesh and nails system for excavations.
Client:

Veneto Strade S.p.a.

Location:

Belluno, Italy