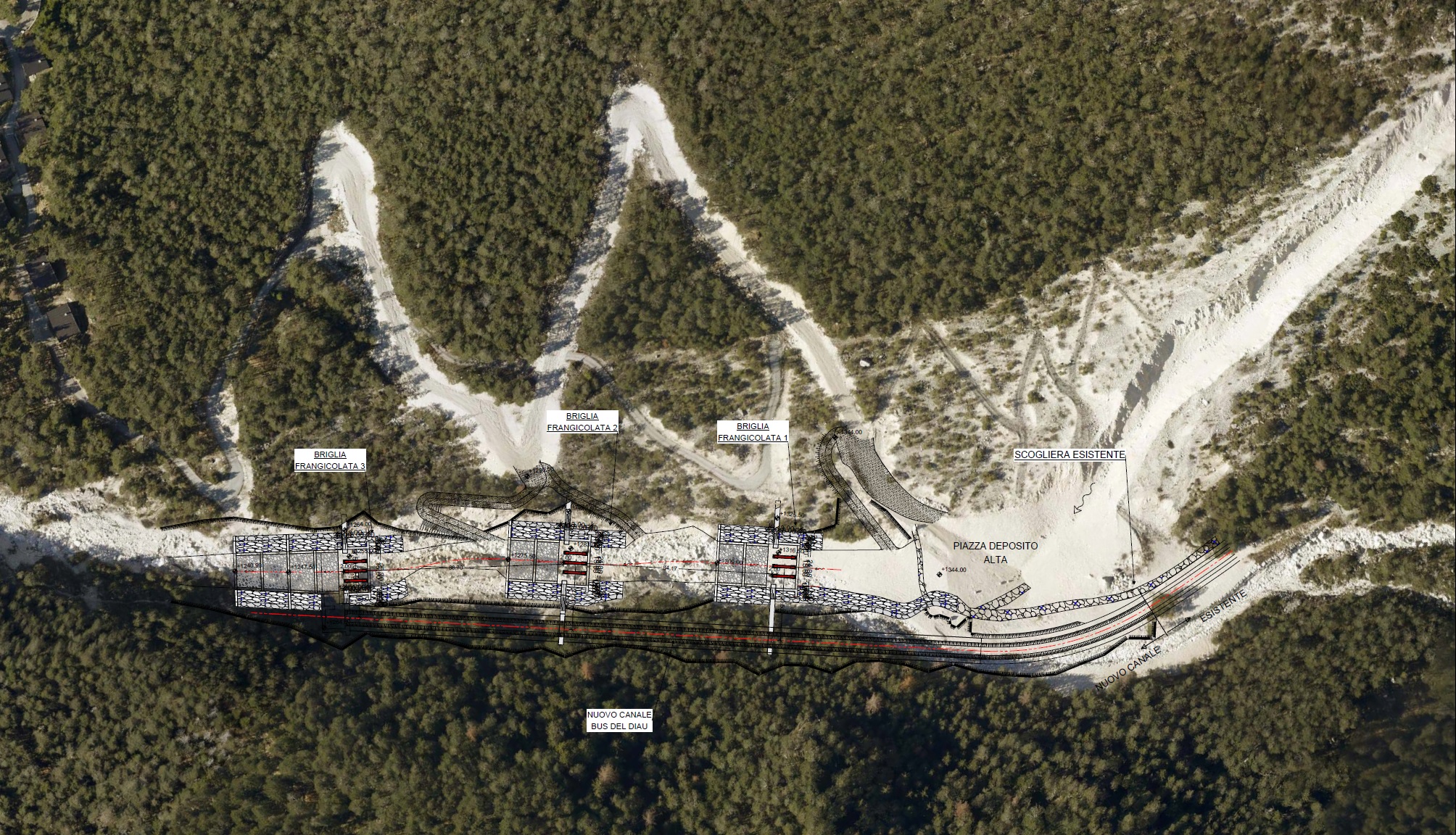 Cancia Debris Flow Management Works
- Three debris-flow control dams ("SABO dam") along the canal Rovina di Cancia

.
The three dams are spaced 85-90 m,  will have a central opening of 15 m and will be equipped with 3 spurs spaced 4÷5 m in the dam's opening. The function of these SABO dams is to reduce the energy of the debris flow thanks to the impacts on the spurs and to favor the deposit of materials. The spurs are designed and installed to be easily replaced if damaged by the impact of big boulders.
- A new canalization of torrent Bus del Diau to move downstream its confluence into Rovina di Cancia
The technique of SABO dams or of the check dams has been in use around the world for thousands of years. In the Province of Belluno there are a number of check dams that have been in function since long.
Recently SABO dams have been used mostly in Japan, a Country that has to deal with the combined threats of debris flows, tropical storms/typhoons that can trigger flooding, and volcanic lahars. The Japanese peculiarity of these dams is the introduction of metal grid spurs which have the purpose to stop or limit the debris flows. The Japanese system is best when dealing with high debris flows and it is referred to as SABO dam, while small dams are normally referred as check dams.
The principle of functioning of a Sabo dam is simple. If a stream is flowing normally, it shall be allowed to continue flowing. It should be able to carry its normal sediment load downhill, eroding and depositing normally, without having sediment pile up behind the dam where it could be a threat to its integrity.
Therefore the dam lets the stream flow through during normal times.
In the event of a flood, debris flow, or lahar, the dam's presence suddenly becomes effective. As the water level on the stream rapidly increases, the vertical bars are in the way. Friction with the vertical bars will slow the speed of the water rushing in the flooding river and as the water is slowed, some of the sediment will drop out behind the dam and get trapped. As the river begins carrying boulders or fallen trees, they will also be trapped behind the dam and limit or interrupt the debris flow even more.
Activities Performed:
Final Design (scheme freeze)
Client:

Province of Belluno

Year:

2015

Location:

Borca di Cadore (BL), Italy